Delicious on Purpose
Perfect Boxes of Chocolates
Delicious Bulk Chocolate Items
Variety of Bagged Items
SUMMER SHIPPING NOTICE
During the months of May - October, we do not recommend shipping our chocolates due to the warmer temperatures. Our chocolates begin to get soft at 70 degrees, increasing the likelihood of it melting. If you have any questions, please feel free to contact the store.
Hawaii and Alaska Shipping Notice
If you are having items shipped to Hawaii or Alaska, please call the store to get the shipping price.
We do not ship to P.O. Boxes.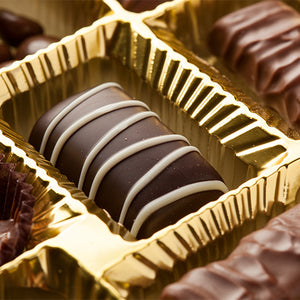 Crafted With Care
Our secret to Stephen Libs Finer Chocolates is the highest quality and freshest ingredients. We use only the creamiest milk chocolate and richest dark chocolate, which are noted for their melt-in-your-mouth delicious flavor. We make our confections the old-fashioned way, in small batches.